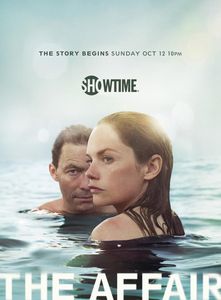 Created by Hagai Levi and Sarah Treem
Storyline:
The psychological effects of an affair between a married waitress at a Hamptons diner and a teacher who spends his summer at his in-laws' estate on the island.
Main Characters:
NOAH and ALISON - (hero)
MAX - (ally)
BRUCE - (mentor)
COLE, SCOTTY and OSCAR - (enemy)
​​Milestones (FIRST ACT):
Ordinary World (episode 1): Noah is married and have four children. He is a writer working on his second book. Alison is also married but her son has passed away. She works as a waitress in a Café in a small beach town.
Call to Adventure (episode 1): Noah goes with his his family to spend summer at his father-in-law house and meets Alison in her Café. Both of them get moved when they meet but they reacted (and "remember" in different ways).
Set of Trial (episode 1): Later in the evening Noah and Alison accidentally meet at the beach. He walks her to her place and witness her husband acting aggressive and fucking her in the garden.
Making Enemy (episode 2): Noah and Alison meet in the other day at the market. He takes his little daughter to take horse riding lessons at the ranch. He finds out that Cole is the owner of the ranch. Cole is going to give the daugther riding lessons and hires Noah's boy for a summer job.
Crossing the Threshold (episode 2): Alison works at Noah's family party as a waitress. Noah sees Scotty (Cole's brother) going upstairs with his daughter. He stops them. She and Noah leave the party, go to the private beach and kiss.
Milestones (SECOND ACT):
Set of Trial (episode 3): Cole fights Alison's boss during a city meeting. Alison tries to go back to work at the hospital but she is not ready yet. She takes the opportunity to steal medicines. Noah has a hard time to write and is pressured by his father-in-law and his editor. Alison and Noah start to hang out. He asks for her to help him out with his book about the island.
Set of Trial (episode 4): Alison and Noah visit the island together. They have sex and Alison confesses that she lost a child drowned in the sea.
Set of Trial (episode 5): Noah makes his daughter apologise for cyber bullying and Alison takes care of her grandmother.
Making Enemy (episode 5): Noah and Oscar fight in front of Noah's wife. Alison's mother comes back to the city and creates disturbance.
Set of Trial/Crossing the Second Threshold/Midpoint (episode 6): Noah goes to a party with a friend, Max. He meets Alison there. Noah's wife starts to act suspicious. Noah witnesses a fight between Cole and Scotty. Noah finds out Alison is a drug dealer and confronts her. They break up.
Set of Trial (episode 7): Noah is blackmailed by Oscar. Alison, Cole and Scotty get rid of the drugs. Noah's wife and Cole find out about the affair. Alison goes to the city to see Noah but she changes her mind. Cole's brother get hurt trying to give the drugs back to the dealers and Cole decides to sell the ranch. In future time the detective goes to the The End Hotel and sees there is no reservation under Solloway's name.
Set of Trial (episode 8): Noah has to go back to the beach town to be at his father-in-law award party. Noah and Alison meet. Her grandmother dies in the hospital and he gives her support. In future time we see the detective
Approaching the Inmost Cave (episode 9): Time has passed. Noah and Alison are back seeing each other. Alison gets hurt when she finds out Noah doesn't plan to lave her wife soon. Noah finds out her daughter is pregnant of Scotty and he attacks him. Noah tells his wife that the affair didn't end and she kicks him out. Noah goes see Alison but she left Cole and him. In future time we see that detective found out there was a canceled reservation under Solloway's name.
​Milestones (THIRD ACT):
Resurrection with the Elixir (episode 10): Alison now gets along with her mother at the spiritual refuge. She goes back see Cole. Noah has been living as a single man getting laid often, he finished his book. His wife wants him back and she decides to sue Scotty for rape of their under aged daughter. They go the ranch and confront Cole who tries to shoot them/kill himself. In the future time Noah tells the mechanic to lie to the detective and we see the mechanic working together with the detective.
Freedom to Live (episode 10): We see the future. Noah is a successful writer living with Alison. They have a daughter. The detective comes to them to have him arrested.
​Final Feedback: Very interesting format of diving the episode in two parts narrated differently. They are not redundant but I'm not sure if it's about lying to the detective or about what they remember. At first I would say one was blaming the other by the way each story was being told but it doesn't work the same way for episode 9 (because we see in Alison's point of view many things she do to destroy Noah's marriage on purpose - and why would she hide the pregnancy test and how would Noah know then if she never showed him?). Also, the murder of Scotty is really on the backstory.