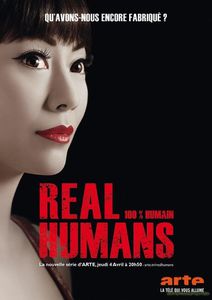 Created by Lars Lundström
Storyline:
In a parallel present the artificial human has come into its own. Robots no longer have anything robot-like about them. When humans make copies of themselves, which are so close to the real thing they form emotional bonds, the questions arises - What does it really mean to be 'human'?
Main Characters:
LEO, INGER, ROGER, - (hero)
ANITA/MIMI - (goddess)
MAX - (ally)
BEATRICE, SILAS, NISKA - (enemy)
​​Milestones (FIRST ACT):
Ordinary World (episode 1): People live in a world where robots look and behave like humans.
Call to Adventure (episode 1): Inger's father needs a new hubot since the one who takes care of him breaks. A group of rebellious hubots are attacked and Mimi is stolen and sold to a reseller.
Crossing the Threshold (episode 1): Inger's husband brings a hubot home, Anita (Mimi). Leo goes in a journey after Mimi. Inger's father lives under surveillance of his new hubot that is over controlling.
Milestones (SECOND ACT):
Set of Trials (episode 2): Inger is jealous of Anita because she doesn't get tired and her family seems to love her. Inger's father is able to restart his old hubot. Leo looks for Mimi in a whorehouse and ends up with low battery. The group os rebellious hubots keeps running away. Roger hits his wife and she runs away from home with her son.
Set of Trial (episode 3): Odi breaks Inger's father's hubot. Tobias tries a move on Anita. Inger takes Anita to see the store where she came from and she starts to remember something about her past. Leo starts working at the whorehouse in order to look for Mimi.
Making Ally (episode 3): The rebellious hubots hide themselves in the cellar of a priest. Roger goes to a anti-hubot meeting and makes friends, Beatrice.
Set of Trial (episode 4): Inger is called to help her friends sue a night club for forbidding the entrance of hubbots. Her father has a car accident when driving with Odi. Odi is asked to hid in the woods. Leo gets a clue about who stole Mimi from him and later goes to confront the men (Silas). Inger's friend has her hubot humanized by Leo. Flashback of Leo and his mom (Breatrice, friends of Roger) in the lake. She drowns and so does he trying to save her. He survived and became part robot.
Crossing the Second Threshold (episode 5): Inger's friend starts to realize maybe it was not a great idea to have her hubot humanized. Thankfully to Inger's daughter Anita wakes up for the first time as Mimi again. Leo becomes a hostage of Silas, he escapes and goes to the hubotmarket to find Mimi, he gets the address of Inger. Roger steals chemicals to explode the hubotmarkt with his friends.
Set of Trial (episode 6): Leo is taken to the hospital after he falls at the street looking for Mimi. Beatrice is revealed to be a hubot herself but Roger doesn't know. Inger loses the case because her friends changed her hubot setting illegally. Tobias fights with his father about the love he feels for Anita (and for thinking his father had sex with her.)
Making Ally (episode 6): Inger's father makes a friend at the painting class who visits him after he has a heart attack.
Set of Trial (episode 7): Leo is identify as a possible murder and goes to jail. He request to be defended by Inger. Tobias saves Anita from being raped and later hurts one of them, Kevin. Roger is fired from work, replaced by a hubot, now he spends more time at home wrecking the plan of Beatrice of hiding the rebellious hubots there.
Set of Trial (episode 8): Beatrice reveals to Roger she is a hubots ad convinces him they should be together no matter what. Tobias confesses his love to Anita. Inger gets information from Leo about his father and has it recorded on her cellphone (but it gets stolen.) Her friends hubots lose control, they bad behave and sexually haress girls at the mall. Beatrice shows Roger she has been hiding the rebellious hubots in his basement.
​Milestones (THIRD ACT):
Set of Trial (episode 9): Inger gives Mimi the code Leo sent her. Inger gets her phone back but she is suspicious take her family is not safe. Inger and her husband fight about what they think about hubots. Her husband takes Tobias to the psychology about his love for Anita. Inger's friends decides to sacrifice her hubot that lost control. Beatrice kills Niska.
Approaching the Inmost Cave (episode 10): Roger attacks the hubots that are searching his home after the Hard Drive. He doesn't understand they were actually on his side. Leo is rescued by the nurse and she helps him and Mimi see each other again. The police enters Inger's house after Mimi.
Resurrection with the Elixir (episode 10): Leo asks Mimi to let him go and tells her the Hard Drive has his clone inside. Mimi runs away when the police arrives. Beatrice kills the police and Leo after she gets the secret code from him. The hard drive is destroyed.
Freedom to Live (episode 10): Onde hubot escapes and lives among humans. Mimi/Anita returns home to Inger and her family. Tobias has the code in his flash drive.
​