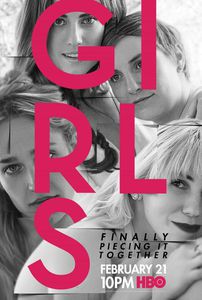 Created by Lena Dunham
Storyline:
A comedy about the experiences of a group of girls in their early 20s
Main Characters:
HANNAH, SHOSHANNA, JESSA, MARNIE- (hero/ally)
RAY, ELIJAH, TAD, CHARLIE - (ally)
ADAM, FRAN, LOREEN - (enemy/ally)
​​Milestones (FIRST ACT):
Call to Adventure (episode 1): Marnie gets ready for her wedding day but it rains and the make up artists doesn't please Marnie.
Set of Trials (episode 1): All the girls get together to make her wedding the best.
Call to Adventure (episode 2): Adam and Jessa decides to be friends but not have sex because of their friendship to Hannah.
Set of Trials (episode 2): Hannah helps her father who came to NY for a gay date and left his wallet at the man's apartment.
Call to Adventure (episode 3): Shoshonna gets fired from the Japanese company she works for. Hannah finds pictures of naked ex-girlfriends in her boyfriend's cellphone.
Set of Trial (episode 3): Hannah gets jealous and insecure about her body. She takes nude pictures of herself. Shoshonna adventures herself in Tokyo and kisses he boss. She doesn't take the flight back to NY.
Milestones (SECOND ACT):
Crossing the Threshold (episode 4): Marnie's married life is not the paradise she dreamed of. Hannah feels something is going on with Jessa. Jessa has sex with Adam
Set of Trials (episode 5): Hannah goes with her mom to a SPA. Shoshonna shows Japan to her former boss, Adam protects Jessa's image to her sister and decides to pay for her education. Hannah has her first gay experience. Shoshanna finds herself homesick in Tokyo.
Crossing the Second Threshold (episode 6): Marnie meets his ex-boyfriend and goes in adventures with him at night in NY. She decides to leave her husband​
Crossing the Second Threshold (episode 7): Hannah's fights with her boyfriend, Fran. Later she finds out Adam and Jessa are together behind her back and gets emotional. Marnie gets a good call for her work
Crossing the Second Threshold (episode 8): Shoshanna arrives in NY from Japan and accidently meets her ex-boyfriend. Hannah breaks up with Fran during their trip outside the town. She leaves him and gets a ride on the road. Jessa helps Adam to take care of his sister's baby and he realizes she acts like a baby. Hannah becomes friends with the driver and sees NY as a city to start over.
Milestones (THIRD ACT): ​
Approaching the Inmost Cave (episode 09): Hannah breaks up with Fran and meets an old friend from college who became a writer. They hang out and this inspires Hannah to write again. Marnie goes to Ray again after she dreams about him. Shoshana decides she will make the old café cool again.
Resurrection with the Elixir (episode 10): Hannah is visited by her parents and decides to go back writing and joins an open mic where she talks about jealously and the relationship between Jessa and Adam. Her mom takes her shopping. Marnie and Ray on tour. Jessa and Adam have a horrible fight -- he hates Hannah but Jessa love her. Shoshanna succeed in making the old café cool again.
Freedom to Live (episode 10): Hannah says she left a fruit basket at Adam's door with a nice note. Jessa and Adam