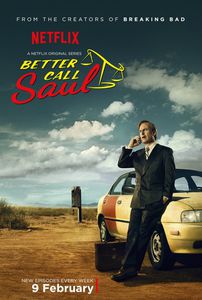 Created by Vince Gilligan and Peter Gould
Storyline:
The trials and tribulations of criminal lawyer, Saul Goodman, in the time leading up to establishing his strip-mall law office in Albuquerque, New Mexico.
Main Characters:
JIMMY - (hero)
KIM and MARCO - (ally)
CHUCK - (mentor)
MIKE - (enemy/ally)
HOWARD, TUCO and NACHO- (enemy)
​​Milestones (FIRST ACT):
Ordinary World (episode 1): Jimmy is a poor lawyer. He struggles with bad cases in the court room and always loses.
Call to Adventure (episode 1): Jimmy has the opportunity to get a major lawsuit from Betsy and Craig that will go on the papers and bring evidence to him.
Set of Trial (episode 1): Jimmy is declined by Betsy and Craig. He decides to have the help of two skaters to play a con on Betsy that goes wrong.
Making Enemy (episode 2): Instead of playing the scam on Betsy the skaters play it on Tuco's grandmother.
Crossing the Threshold (episode 2): Tuco has Jimmy and the skaters as hostages.
Milestones (SECOND ACT):
Set of Trial (episode 2): Jimmy is able to use his lawyer skills to get away from Tuco and his partner, Nacho.
Set of Trial (episode 3): Jimmy Nacho approaches Jimmy to get more information about Craig's money. Craig and Betsy are kidnapped and Nacho is taken as suspect. Jimmy finds them camping, receives a bribe from them and is able to to acquit Nacho.
Making Ally (episode 3): Mike helps Jimmy giving him a possible solution on Betsy and Craigs disappearance.
Set of Trial (episode 4): Jimmy uses the bribe to make himself a copy of Howard. He is sued by HHM for copyrights infringements but turns out being a hero when he pretends to save a man from falling from a billboard.
Set of Trial/Crossing the Second Threshold/Midpoint (episode 5): Jimmy is a now a successful lawyer. He is required by many clients. However Chuck suspects that Jimmy did something wrong, goes outside his house and steals a newspaper. The police attacks him with electric shock and he goes to the hospital.
Set of Trial (episode 6): This episode is about Mike's backstory. He is a former cop who killed the murderer of his son. He has a grand-daughter and a daughter-in-law living in Albuquerque. Mike requests Jimmy to defend him from the investigation on the death of two cops.
Set of Trial (episode 7): Craig and Betsy blackmails Jimmy to help them on their case. He can't take the case because it belongs to HHM and Kim got in trouble because of it, and if he doesn't take, the fact he got a bribe will come out. The only solution he finds is to steal the money from them, put his part back, and gives it to the police with Mike's help.
Set of Trial (episode 8): Jimmy is decided to investigate the case against the senior houses. He believes his clients are being extorted and aren't even aware of it. He has Kim's and Chuck's help. After struggling to find evidences and finds himself with a huge case.
Approaching the Inmost Cave (episode 9): Chuck convinces Jimmy to bring the case to HHM because it got into too big proportions. He does it but Jimmy is backstabbed and discovers HHM doesn't want him as a lawyer. Later he finds out Chuck is the one who voted against him and not Howard.
​Milestones (THIRD ACT):
Resurrection with the Elixir (episode 10): Jimmy feels betrayed by Chuck and goes back to Chicago to revisits his old best friend, Marco. They have a wonderful time together playing scams on people.
Freedom to Live (episode 10): Marco dies and Jimmy decides to never play the good lawyer ever again.
​Final Feedback: In terms of structure I see episode 6 and 10 lousy structured. Episode 06 is exclusively focused on Mike and episode 10 doesn't really show dramatic triggers to make Jimmy behave the way he does. For example, in Chicago he is decided already to go back to Albuquerque and be the lawyer he wanted to be before because his good work payed off, however in the last minute he changes his mind abruptly after Marco's death. I don't see this event as good enough to make up his mind, considering that the good news at work came to him after his friend's death.