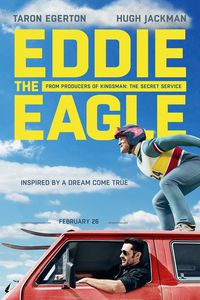 Directed by Dexter Fletcher
Written by Sean Macaulay and Simon Kelton
Storyline:
The story of Eddie Edwards, the notoriously tenacious British underdog ski jumper who charmed the world at the 1988 Winter Olympics.
Main Characters:
EDDIE - (hero)
MOM and PETRA - (ally)
BRONSON - (mentor)
FATHER, ATHLETES, OLYMPIC COMMISSION - (enemy)
​Milestones (FIRST ACT):
Ordinary World: Eddie is a clumsy boy who always dreamt of being an Olympic athlete.
Call for Adventure:
Milestones (SECOND ACT):
Crossing the Threshold: Eddie arrives in Germany and starts his training.
Making Enemies: The other players laugh at Eddie.
Making Ally: Eddie becomes friends with Petra who owns a bar there. She takes care of him.
Set of Trial: Eddie practices. He starts at the smallest track.
Meeting the Mentor: Eddie meets Bronson who used to be a great jumper. At first he refuses to help Eddie out but he is convinced of his passion and determination.
Set of Trial: After his new training Eddie manages to get just enough points to go to the Olympics.
Crossing the Second Threshold: Eddie goes to the Olympics
Making Enemy: Eddie has a hard time with the other players.
Set of Trial: He manages to land safe but finish in last place. People seem to love him but he is a joke.
Milestones (THIRD ACT):
Approaching the Inmost Cave: Eddie decides he must jump from the tallest track and prove to everyone what he is capable of.
Resurrection with Elixir: Eddie gets scared but Bronson shows up and cheers him up. He gives Eddie a pep talk and now he is ready to win.
Freedom to Live: Eddie breaks the British record with a low score and goes back home as a winner.