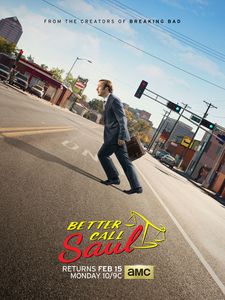 Created by Vince Gilligan and Peter Gould
Storyline:
The trials and tribulations of criminal lawyer, Saul Goodman, in the time leading up to establishing his strip-mall law office in Albuquerque, New Mexico.
Main Characters:
JIMMY - (hero)
KIM and MARCO - (ally)
CHUCK - (mentor)
MIKE - (enemy/ally)
HOWARD, TUCO and NACHO- (enemy)
​​Milestones (FIRST ACT):
Ordinary World (episode 1): Jimmy refuses to work honestly and lives by the pool of the hotel pretending o be a guest.
Call to Adventure (episode 1): Kim is concerned with him and makes him a visit.
Set of Trial (episode 1): They play a con on someone else.
Crossing the Threshold (episode 1): Jimmy realizes he misses Kim therefore he decides to play ethically in order to stay close to her. Jimmy starts his first day at the law firm.
Milestones (SECOND ACT):
Set of Trial (episode 2): Mike goes after the baseballs cards of the pharmacists that were stolen by Nacho. Jimmy helps Mike to take the police out of the way.
Set of Trial (episode 3): Jimmy runs a commercial on behalf of the law form he works, against Sandpiper. Kim doesn't know the ad was not authorized by their boss. Mike asks the veterinarian for a better paid job.
Set of Trial (episode 4): Jimmy talks his way out of being fired. Mike is called by Nacho to kill Tuco. He refuses to kill him but makes a plan to make him get arrested. Kim is punished because of Jimmy's ad. He goes to Chuck to explain what happened.
Set of Trial (episode 5): Kim episode. She is decided to get a good client to HHM and be brought back from her punishment. After many tries she manages to do great but it doesn't work she is kept in the Files Review. Mike receives an offer to take Tuco out of jail for money from his uncle.
Making Enemy (episode 5): Jimmy has a hard time with a younger attorney who keeps him in line.
Set of Trial (episode 6): Kim is offered a job and partnership in HHM's rival firm. Mike is blackmailed to tell the police he is the owner of Tuco's gun so he would leave jail sooner.
Set of Trial/Crossing the Second Threshold/Midpoint (episode 7): Jimmy gets fired on purpose from the law firm and Kim decides to decline a job offer to be a freelancer under the same roof as Jimmy. Mike goes to the police and says it was his gun with Tuco.
Set of Trial (episode 8): Mike aims to settle the score with an enemy by being an obstacle to his drug dealing; Kim quits HHM and takes Mesa Verde with her but Chuck manages to get it back from her. Jimmy gets angry.
Approaching the Inmost Cave (episode 9): Mike feels responsible for the death of the drug dealer of his enemy since he was killed after failing his mission, so Mike takes a methodical approach to his mission; Jimmy plots to make people question Chuck's capabilities on court so Mesa Verde would return to Kim. However Chuck realizes Jimmy is behind it and while he tries to prove it he has a panic attack; Jimmy faces a personal dilemma to help Chuck and reveal himself or not.
​Milestones (THIRD ACT):
Resurrection with the Elixir (episode 10): Jimmy saves Chuck and is convinced by the doctors to do a full brain scan on him while he is not awake. Mike decides to kill Tuco's uncle.
Freedom to Live (episode 10): Mike ends up not killing Tuco's uncle not because he doesn't want but he doesn't want to kill "innocent" people to accomplish it. Jimmy falls for Chuck's trap when he quits HHM to get Jimmy's confession.