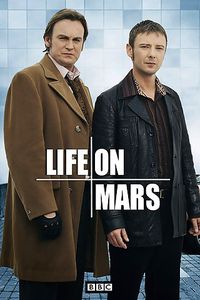 Created by Matthew Graham, Tony Jordan and Ashley Pharoah
Storyline:
After being involved in a car accident in 2006, DCI Sam Tyler wakes up to find himself in 1973, the era of 'Sweeney' type policing, Mark III Cortinas, and flared trousers.
Main Characters:
SAM - (hero)
ANNIE, NELSON - (ally)
GENE, VIC - (enemy/ally)
Mrs TYLER - (goddess)
​​Milestones (FIRST ACT):
Ordinary World (episode 1): Sam is a detective investigator in 2006 working in a hard case. His girlfriend (also a detective) decides to go after the murderer herself.
Call to Adventure (episode 1): His girlfriend is caught by the same murderer and Sam is decided to find him.
Crossing the Threshold (episode 1): Sam is hit by a car and wakes up in 1973.
​Milestones (SECOND ACT):
Set of Trial (episode 1): Sam finds himself as a detective investigator looking for the same murderer who (will) have taken her girlfriend in 2006.
Making Ally (episode 1): Sam has the support of Annie who cares about his sanity and listens to him. She stops Sam from killing humself as an attempt of "waking from his coma". Sam also meets Nelson, the bartender, who gives him advices.
Making Enemy (episode 1): Sam has a clash of cultures with Gene Hunt, his boss. Underneath his stubborn hard skin Gene is actually Sam's ally.
Set of Trial (episode 2): An armed robber is brought in with no evidence, as a preventive measure. After the forensics is messed up by Chris, Sam finds new hope in solving the case with Leonard. Sam tries to persuade him to testify by offering him police protection, but Gene, Ray and Chris don't take the detail seriously, resulting in the lives of Annie and Leonard being at risk.
Making Ally (episode 3): Sam is called to a murder at a textile mill, the future site of his bachelor flat in 2006. Hunt suspects an outspoken union representative, but Sam tries to use his 21st century knowledge of forensic science to find the killer.
Set of Trial (episode 4): Sam discovers that many of his colleagues are taking bribes from a local gangster, and is determined to put a stop to it, but Hunt seems unwilling to help. Sam tracks down his mother, who has money troubles. He tries to help but this pushes her away from him. Sam falls for a scheme, and has photos of himself naked taken by one of assistants of the gangster.
Making Ally (episode 4): He finds Hunt confronting the gangster in order to save Sam's reputation and later meets the regretful girl who burns the pictures. She is killed on that same day by the gangsters and Hunt and Sam arrest him.
Set of Trial (episode 5): The murder of a football fan results in a clash of methods as Sam and Gene go undercover in a local pub to solve the crime. Sam worries about their chances of finding the killer before Saturday's big match. And his relationship with the young son of the murdered man brings Sam's memories of his own father and their relationship with football.
Set of Trial (episode 6): Sam hears that the machines that keep him alive in 2006 will be turned off at 2:00, at the same time a man says will start a shooting at the Manchester Gazette. Annie goes in disguise as a nurse to help solve the investigation but she and later Sam become hostages. He is saved (in 1973) when DCI Litton and the other officers burst in, and (in 2006) when his mother refuses to switch off his life support after she believes she sees him smile.
Set of Trial (episode 7): Sam orders a full investigation when a drug dealer dies in police custody, but his colleagues seem reluctant to help.
​Milestones (THIRD ACT):
Approaching the Inmost Cave (episode 8): Sam stops a new gang in town, the Morton brothers. The trail leads from a pair of armed thugs to Vic Tyler, Sam's father. Sam, remembering that his dad left the family about this time (1973), becomes convinced that by making Vic stay, he will get home himself. He can't convince his father to stay.
Resurrection with the Elixir (episode 8): Events come to a head at a family wedding. His father runs away into the woods where Sam learns the truth about his father and his own past. He lets his father run away.
Freedom to Live (episode 8): Sam tells his mother the truth about his father, he sees that 1973 can be good around Annie and goes to the pub with his co-workers, as usual.
​Final Feedback: