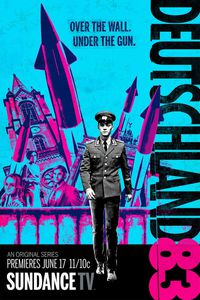 Created by Anna Winger and Jörg Winger
Storyline:
Set in 1983, a 24 year old East German border guard is forcibly recruited by his government to pose as an assistant to a prominent West German official in order to gather intelligence regarding US plans to defend the West from Soviet aggression.
Main Characters:
MARTIN/MORITZ - (hero)
ANNET, INGRID, YVONNE - (goddess)
LENORA and TOBIAS - (mentor)
ALEX, GENERAL EDEL, URSULA- (enemy)
​​Milestones (FIRST ACT):
Ordinary World (episode 1): Martin is a young officer of East Germany.
Call to Adventure (episode 1): Lenora, his aunt, recruits him as a spy to be infiltrated in West Germany.
Meeting the Mentor (episode 1): Lenora, his aunt, presents Martin to Tobias and they train Martin.
Crossing the Threshold (episode 1): Against his will Martin is taken to West Germany and now must work in disguise in order to keep his mother safe in East Germany.
Set of Trials (episode 1): They teach him about West German culture and give him a new name: Moritz. He is a soldier for West Germany.
Making Enemy (episode 1): One of the relatives of General Edel, Ursula, listens to Martin making a call to East Germany to check on his mother.
Milestones (SECOND ACT):
Set of Trial (episode 2): Martin is ordered to break into the hotel room of a high-ranking NATO official and steal a top-secret report, a coputer disk. After rescuing his sister from the hippie community, Alex joins the peace movement that Tobias is the leader.
Set of Trial (episode 3): Lenora gives Martin the mission to seduce Linda and take information from her. The DDR can't read the disk Martin stole. Martin plants a bug in a desk that will be deliveried to Linda's boss but instead goes to her office. Martin's girlfriend is pregnant in East Germany and she finds out Martin's mom hides forbidden books in a secret chamber in her house. Alex goes to the first meeting of the movement.
Set of Trial (episode 4): When the bug is found in Linda's desk, all NATO is in high alert. Martin must cover his tracks by any means necessary. Martin scrambles to turn her loyalties while under interrogation by NATO brass about their relationship. She finds out the truth about Martin and is killed by the spies. Alex is kicked out of his home when his father finds out he is a member of the peace movement. Alex goes to Tobias' place. They kiss.
Making Enemy (episode 4): Martin has doubts about KGB and the soviet government.
Crossing the Second Threshold (episode 5): Martin now dates the daughter of General Edel. He is sent back to East Berlin, on the way, he must deliver a seemingly harmless package to a mysterious man in West Berlin who detonates a bomb. Martin chases the man, they fight and he destroys the package. He is late to cross the wall and donate his kidney to his mother. Alex leaves Tobias place after he is asked by him to stay in the army. Annet decides to act, telling KGB about the books she found in exchange to send a message to Martin.
Set of Trial (episode 6): Martin saves his mother but must return to his undercover life in West Germany, he is convinced by Annet and Schweppenstette. Meanwhile Alex Edel has taken General Jackson hostage and forced him, at gunpoint, to film a seething denouncement of US military plans in Western Europe. Martin is able to take Alex out of there safe.
Milestones (THIRD ACT):
Approaching the Inmost Cave (episode 7): When Martin receives a shocking order from East Germany, he quickly realizes that his concern about their paranoia has just been validated. Tensions reach a fever pitch as protests interrupt West German War Games that look like a preemptive nuclear strike to the East. He tells General Edel he is the mole, he is under arrest but escapes.
Set of Trial (episode 8): Martin hides himself and crosses he border to East Berlin. He goes home and finds Yvonne made hostage by Annet. He saves her and goes to the HQ of KGB.
Resurrection with the Elixir (episode 8): Martin enters the KGB building and interrupts a meeting of Schweppenstette. He is able to get their attention and stop the attack to the West.
Freedom to Live (episode 8): Martin goes home and meets his mother. Alex tests for HIV.
​Final Feedback: The romantic plots run too fast. There a lot of characters with low importance that are nor really well explained in the arc.. They come and go as we know them.