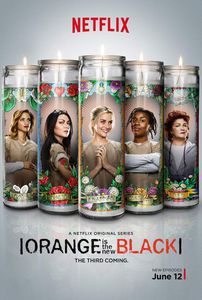 Created by Jenji Kohan
Storyline:
The story of Piper Chapman, a woman in her thirties who is sentenced to fifteen months in prison after being convicted of a decade-old crime of transporting money for her drug-dealing girlfriend.
Main Characters:
PIPER - (hero)
ALEX, BERDIE ROGERS - (ally)
DANNY, RED, STELLA - (enemy/ally)
POLLY, LUSCHECK and HEALY - (enemy)
STELLA - (goddess)
​​Milestones (FIRST ACT):
Ordinary World (episode 1): It is Mother's Day. Red is back. So is Alex. There is a new counselor, Berdie Rogers. During the family visit Red finds our Piper lied to her about her restaurant being a success.
Making Enemy (episode 1): During the family visit Red finds our Piper lied to her about her restaurant being a success. Red and Piper share the same cell.
Call to Adventure/Meeting the Mentor (episode 2): Piper confess to Alex she was the one who made the call that brought Alex back in prison. They fight but also have aggressive sex. Bennett proposes to Dayanara. Caputo finds out the prison will be closed. Nicky, a inmate, offers Luscheck, a security officer, to sell her heroine.
Set of Trial (episode 2): Nicky's heroine is found by the couple of meth heads. Luscheck take the drugs from them and sell it. Nicky is able to get one and hide in his desk. Caputo finds out and sends her to the Max.
Making Enemy (episode 2): Piper starts to hate Luscheck for blaming Nicky for the heroine which sent her to the Max.
​​Milestones (SECOND ACT):
Set of Trials (episode 3): Berdie Rogers is Alex counselor and she suggests that she comes to the drama club. Alex goes and during the stage performance Piper and her make peace. However they realize later they lost the aggressive sex as well. Healy forces Red translate and help him understand his Russian wife.
Making Ally (episode 3): Caputo threatens Natalie, a former prison manager, to reveal that her husband is gay unless she helps the prison camp to stay working. She gives him a paper with how to pass on the analyze visit. Alex and Piper are OK again. Red defends Healy against his wife impoliteness and he falls in love for her.
Set of Trial (episode 4): Caputo brings the analysts to the prison camp and tries to hide and dodge the daily mess of the inmates, however the plan does not work well. Boo receives a beauty makeover to present herself to a reverend.
Making Ally (episode 4): Caputo receives a call from Danny, one of the analysts, who says the camp will stay open. Boo and becomes friends.
Set of Trial (episode 5): Danny starts working in the prison camp and the inmates get excited with the possibility of job replacement.The inmates have to make an exam to get assigned to a new job - sewing. Dayanara calls Pornostache mother to tell her she wants her to have the child. Red tries to flirt with Healy to get her job in the kitchen back. He notice it and gets disappoint.
Making Enemy (episode 5): Alex is paranoid about a girl in prison she has never seen before but keeps staring at her. She is afraid she was sent by Kubra.
Set of Trial (episode 6): Red convinces Healy to give her a position in the kitchen. Caputo is confronted by the prison staff to get them the full time job back. Piper steals fabric from the sewing assignment to make herself a G-string. Morgallo gets obsessed to meet new guys in order to not feel lonely anymore.
Crossing the Second Threshold (episode 7): Norma is worshiped by the other inmates who believe she has healing powers. She blesses Red who later gets the kitchen back after Gloria quits. However since by the end of the day the food is replaced by a premade food Red starts to think she was not blessed but jinxed. Piper and Alex plan to make extra underwears in the sewing assignment, use them and overprice sell them outside prison.
Making Ally (episode 7): Stella, the new girl in the sewing assignment, starts helping Piper.
Set of Trial/Making Ally (episode 8): Piper is able convince plenty of inmates to work for her wearing her underwears. Later she flirts with the new cop and also gets him to help. Dayanara comes clean to Pornstache's mother and tells she pregnant of someone else's baby.
Making Enemy (episode 8): Danny tries to help Caputo but when he arrives at the camp he finds out he left early. Danny confronts Caputo and demands he completes his shift. Their relationship changes. Alex is afraid Polly hides a broken glass somewhere.
Set of Trial (episode 9): The Norma believers group tries the make themselves a serious religion. Alex finds the book Polly hides with notes about Alex's every move. Danny sends a rabbi to the prison camp in order to solve the problem of excess of expensive kosher food.
Meeting the Goddess (episode 9): Piper and Stella kiss each other.
Set of Trial (episode 10): Alex fights Polly in the bathroom and finds out she believed Alex was a NSA spy. Polly is not a threat anymore. Stella helps Piper to recruit more girls. Dogget is raped by the guard.Pornstache mother decides she wants to adopt Dayanara's baby even knowing it is not her grandchild.
Making Enemy (episode 10): Officer Coats - Dogget's raper.
Milestones (THIRD ACT):
Set of Trial (episode 11): The prison officers start to get united for their rights since they found out they have no union. The inmates get together to renegotiate the underwear deal with Piper. Soso confronts the Norma group of believers. Piper starts a quest to find cellphones. Caputo goes after a inmate who was accidently released.
Belly of the Whale (episode 11): Piper and Alex get back together, but Piper feels guilty. She avoids Stella. People start to spread bad gossip about Burset and she is furiously attacked. Alex does not support Piper's idea of making the business grow.
Making Ally (episode 11): Red helps Piper to control the inmates and make the business work.
Set of Trial (episode 12): Boo and Dogget make a plan to rape the rapist guard.
Making Ally (episode 12): Piper and Stella convince the officer to help them again.
Approaching The Inmost Cave (episode 12): Boo and Dogget take the guard to a dark room but hesitate to rape him. Piper confess her love for Stella but she will be realeased soon. Soso is found unconscious. Dayanara gives birth to a baby girl. Burset is taken to HSU after threatening Caputo of calling the news to denounce her aggression. Red is able to make a wonderful dinner. Taystee realizes she is the "mother" of the African-American group, replacing Vee.
Approaching The Inmost Cave (episode 13): Morello proposes to one of her penpals. Soso tells Healy his a terrible counselor. Poussey confronts Norma and Leanne about Soso's suicidal attempt. Piper's brother tells her somebody took her money and see finds out it was Stella. Caputo and Danny meets the company president to talk about necessary changes and the Burset situation. Danny is fired and they offer his job to Caputo. Cindy meets the rabbi again to become a jew. Alex had reasons to be paranoid, Aydin (Kubra's ally) enters the jail after her.
Resurrection and Elixir (episode 13): Dayanara's mother talk to her about the love of a mother and they start to get along again. Morello's boyfriend accepts to marry her. Healy asks Red if he was a bad counselor and she makes him feel good. Piper hides stuff in Stella's cell and she is sent to Max. Caputo accepts the job offer and lose the friendship and loyalty of the prison officers who decide to go on a strike. Dogget pretends to have a seizure to change assignments and avoid the raper. Cindy is baptized.
Freedom to Live (episode 13): Piper is full evil now. She gets herself a tattoo. A young pretty inmate is assigned to drive the van with Officer Coats instead of Dogget. There no guards in prison and there is a hole in the fence where the inmates run through to enjoy a beautiful day by the lake. Soso is welcomed into the African-American group.
Final Feedback: 

Even tough I have picked Piper as the heroine (lead character) this season has plenty of plots and she is farther from the spotlight. The prison camp management has been highlighted and the season two style of exploring the background of the inmates has been kept. 

The story of Nicky being sent to Max does not fit well with the rest of the structure. Stella stood out and also the new "poor side" of Dogget. Since Polly reveals not to be a real threat, Alex plot colds down after a long time heating slowly up. 

Another down side of this season is how easy prison seemed to be. The good relationship with the inmates has been established and Piper seems to be far from any great danger. Sometimes the prison life does not feel any close to reality. 

Plot A: Piper and Alex relationship and the presence of Stella. Piper starts a illegal business inside the prison camp. Alex is paranoid about being back in prison and about Polly staring at her. 

Plot B: The new management of the prison and the bureaucracy that Caputo must defeat. The presence of Danny and the prison officer's union. 

Plot C: Red and the Kitchen. She flirts with Healy. The food changes but she finds her way. 

Plot D: Norma and her religious group; the fight between Leanne and Soso. 

Plot E (Others): Burset and Gloria with their sons and Dayanara about the baby adoption. Suzanne and her writing. The relationship with the new inmate, BLbalbala. The bad relationship between Healy and the new counselor, Rogers. Nick going to Max. Morgallo obsession with penpals. The African-american group who tries to pass as jews. The rape of Dogget. Healy's marriage and the love for Red.