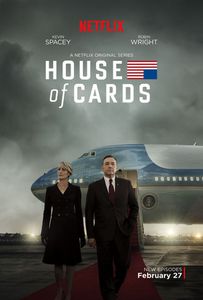 Created by Beau Willimon
Storyline:
A Congressman works with his equally conniving wife to exact revenge on the people who betrayed him.
Main Characters:
FRANCIS and CLAIRE - (hero)
GAVIN, TOM, JACKIE and DOUG - (ally/enemy)
MENDOZA, PETROV, HEATHER, ALEXI, CASPI - (enemy)
CATHY, REMY and SETH - (ally)
​​Milestones (FIRST ACT):
Ordinary World (episode 1): Doug recovers himself from the accident. Frank is a very unpopular president.
Call to Adventure (episode 1): Claire decides she must start as soon as possible her political career and goes to Senator Mendoza to get his support. Frank forces to approve a risky unemployment plan - America Works.
Set of Trials (episode 2): Claire tries to become an ambassador of the UN in order to start her career with politics. She is destroyed during her attempt. Frank and Claire spend the night making calls but in vain, she eventually loses. Frank confronts the party leadership and makes a public speech about not running in 2016 and the America Works program.
Making Enemy (episode 2): The democrat party's leadership, including Jackie, votes against Frank to run for president in 2016. Senator Mendoza, a republican, is the one who mostly fought against Claire during her attempt.
​Milestones (SECOND ACT):
Set of Trial (episode 3): Claire insists to become the UN ambassador and gets the position. Frank receives the president of Russia, Petrov, to make a secret deal about the Middle East. Petrov gets everyone drunk at the White House party and kisses Claire. Claire tries to get closer to Cathy.
Making Enemy/Ally (episode 3): Petrov wants Frank to public announce his alliance with the Russians. He does just the opposite and kicks Petrov out of the White House. Claire and
Set of Trial (episode 4): Claire bypasses Russia at the UN. Frank tries to take Heather out of the democratic leadership plan of 2016 president run by offering her the position as the Supreme Court Judge. It doesn't work because she understands Frank's plan. Gavin tries to use his FBI credential to find the location of Rachel but her profile is blocked. He gets closer to Lisa to get more information then.
Making Enemy (episode 4): Heather and Judge Jacobs; and Alexi (Russian ambassador at the UN).
Set of Trial (episode 5): The new reporter of Washington Herald, Kate, gets information from inside the Government about the risks of the America Works to the tornado season. She writes a headline about it. Heather, with Doug's help, starts to gather talented people to work for her against Frank Underwood. Frank convinces Jackie to run in 2016 against Heather so she loses attention until the American Works program gets results. Frank hires a romance writer to work for America Works propaganda.
Set of Trial (episode 6): Frank and Claire go to Moscow to bring a gay right activist who went to jail back to the USA. Claire has a hard time convincing him to come with her. Frank and Petrov finally make a deal. The activist kills himself moments before going home and Claire sabotage Frank and Petrov's plan by telling the truth about his death to the press. Gavin gets enough pieces of information from Lisa and is able to find Rachel.
Crossing the Second Threshold (episode 7): Frank and Claire fight in the airplane back to the US. The America Works starts to receive good reviews from the media. Claire and Frank decides to remake their wedding vows and she dyes her hair to her natural color. Gavin use the information he gets from Lisa to advance his search and find possible addresses of Rachel. He gives them to Doug.
Making Enemy (episode 7): Claire confronts ambassador Caspi, from Israel, about the aid to Zimbabwe.
Set of Trial (episode 8): Frank is pressured to sign a bill that closes the America Works in order to raise the funds for the approaching hurricane. Doug arrange a meeting between Heather and Jackie. Frankie and Heather decide to gather forces during the storm and move their campaign donations to the Red Cross. Tom has sex with Kate. Frank signs the bill. The hurricane makes a turn and America Works was sacrificed in vain. Frank hires Tom back to write his memoir and help him with the 2016 election campaign.
Making Enemy (episode 8): Frank thinks there might be something odd with Tom and Kate. Frank confronts Tom and finds out there is nothing in the book about America Works.
Set of Trial (episode 9): Frank starts his political campaign. Doug, drunk, shows Frank the files about Rachel. Frank calls Heather and threatens her if she uses Doug again.
Set of Trial (episode 10): Frank goes to Jordan Valley to meet with Petrov and make a deal. Petrov demands that Claire drops her position as ambassador. Gavin confess to Lisa the truth but she doesn't want to believe. Doug receives his brother's family at his home.
Love in the Underworld (episode 10): Claire decides to resign. Frank calls Tom to the White House in the middle of the night and they get closer or pretend to be.
Set of Trial (episode 11): Claire and Frank go on tour for the campaign. Jackie tries to go to Heather's side but she does not receive any offer. Frank participates on the CNN debate. Claire faints while donating blood. Jackie quits and gives her public support to Heather instead of Frank. Remy quits his job as well.
Making Enemy (episode 11): Jackie confronts Frank about how he treated her during the debate.
Set of Trial (episode 12): Heather threatens Frank of having the journal about Claire's abortion. She will give it to press unless Frank quits the presidential run. Jackie confess her love to Remy. Doug threatens Gavin and gets Rachel's address.
Making Ally (episode 12): Frank calls Doug up who destroys the journal in front of him.
Milestones (THIRD ACT):
Approaching The Inmost Cave (episode 13): Doug kidnaps Rachel and she convinced him to let her live. Claire confronts Frank and demands to have aggressive sex with him. Claire talks with Tom and he makes her wonder. Frank wins in Iowa and later in the White House he and Claire has a major discussion.
Resurrection and Elixir (episode 13): Claire leaves Frank.