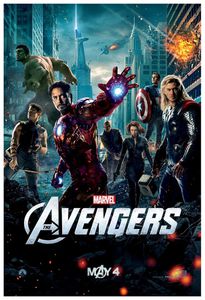 Written and Directed by Joss Whedon
Storyline:
Earth's mightiest heroes must come together and learn to fight as a team if they are to stop the mischievous Loki and his alien army from enslaving humanity.
Main Characters:
BLACK WIDOW, HULK, CAPTAIN AMERICA, IRON MAN, THOR - (hero)
NICK FURY - (mentor)
AGENT MARIA HILL, AGENT PHIL - (ally)
LOKI, HAWKEYE, DR. SELVIG - (enemy)
​​Milestones (FIRST ACT):
Ordinary World: Loki comes to Earth and uses Hawkeye and Dr. Selvig to steal Nick's briefcase. In Russia Black Widow is called in the middle of a mission. Hulk is a doctor working in India. Captain America is training in a gym. Iron Man and Pepper live in the Stark Tower.
Meeting the Mentor/Call to Adventure (00:30:00): Every Avenger (except for Thor) is contacted to join the team and fight Loki.
Crossing the Threshold (00:35:00): They meet in the military base in the ocean.
Milestones (SECOND ACT):
Set of Trials (00:38:00): Loki attacks civilians. The Avengers go fight him. They don't get along really well at first but they succeed on arresting Loki.
Making Ally/Enemy (00:40:00): Thor shows up and kidnaps Loki from the Avengers.
Set of Trials (00:47:00): Thor and Iron Man fight in the forest after Loki is arrested.
Making Ally (00:55:00): The Avengers get to know each other better. Thor joins the team. Each one of them think in a different way and has an unique opinion about the solution of the war.
Set of Trial (01:00:00): Black Widow interrogates Loki.
Crossing the Second Threshold (01:08:00): Hulk finds out that S.H.I.E.L.D. has built mass destruction weapons. The Avengers start to fall apart during phase 2.
Set of Trial (01:13:00): Hawkeye attacks the Avenger's base with Loki's army. Hulk reveals his full form. Black Widow has to run away from Hulk. Thor fights Hulk. Captain America and Iron Man work together. Agent Maria saves Nick. Thor and Loki confront one another. Loki kills Agent Phil. Loki gets away.
Belly of the Whale (01:30:00): After Phil's death Nick tells the Avengers the goal of gathering a team of superheros, to work together, as a well-oiled machine and how none o this happened.
Making Ally (01:33:00): Black Widow is able to clean Hawkeye's mind so he turns back to the Avenger's side.
Resurrection with the Elixir (01:37:00): The Avengers start to work together.
Approaching The Inmost Cave (01:40:00): Iron Man goes to the Stark Tower where Loki stays. He takes his costume off and confronts Loki.
Milestones (THIRD ACT):
Set of Trial (01:43:00): Loki's army comes and fight Iron Man. Thor, Captain American. Black Widow and Hawkeye come to help. Hulk appears as the missing element to defeat Loki's army. Together they are stronger.
Love in the Underworld (02:03:00): Iron Man tries to call Pepper before he sacrifices himself to save New York.
Freedom to Live (02:10:00): The Avengers win. Peace is restored. Thor takes Loki with him back to their universe. Each Avenger returns to its own life.
Final Feedback:

The Resurrection with the Elixir is in the second act. There is not a moment during the third act that we actually think they could lose the battle. The sacrifice of Iron Man is too short and is a very weak beat to be considered a really relevant structure milestone.. in my opinion.

On the other hand, Act II #10 could be The Crossing of the Second Threshold (and #6 would be a set of trial in this case) making the Resurrection point Iron Man's sacrifice. But I do not feel comfortable with this interpretation.