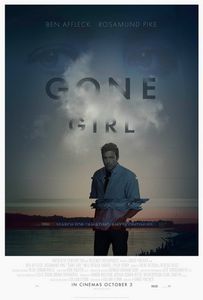 Directed by David Fincher 
Written by Gillian Flynn
Storyline:
Amy is missing. Nick and the detective must follow her anniversary clues in order to get more information about her whereabouts.
Main Characters:
NICK - (hero)
AMY - (goddess/villain)
MARGO - (ally)
DETECTIVE - (mentor/villain/ally)
LAWYER - (mentor/ally)
DESI (Amy's ally)
​Milestones (FIRST ACT):
Ordinary World: Nick and Amy are married for five years. They met each other in a party in New York. Nick has a sister, Margo, who works as a bar manager.
Meeting the Goddess: AMY'S JOURNAL: Nick and Amy meet at the party and kiss in the street. She is in love wih Nick.
Call to Adventure (00:10:00): Nick goes home and can't find Amy. The glass table is broken. He calls the police.
Making Allies (00:21:00): Nick stays at his sister's house and she supports him.
Hook (00:23:00): The detective finds an envelope that says "Clue 1".
Milestones (SECOND ACT):
Crossing the First Threshold (00:25:00): The parent's of Amy arrive in the city and make a press conference about the case and public ask people to help finding Amy.
Meeting the Mentor (00:28:00): Nick is asked by the detective to solve the first enigma.
Set of Trials (00:29:00): Nick gets the first answer right and find the second clue.
Making Enemies (00:31:00): Nick finds the third clue inside his dad's old house. The detective shows up and Nick thinks she has been following him. He doesn't show her the new clue. AMY'S JOURNAL (00:41:00) - Moving to Missouri. Feeling depressed.
Temptation (00:43:00): Nick has an affair. She visits him late at night at his sister's place. They have been meeting each other in secret. He told her in the past he was going to get divorced.
AMY'S JOURNAL (00:44:00) - Amy wants a child. She feels lonely. They fight and Amy confesses to be scared of Nick.
(00:47:00) - The detective goes to the local drug dealer and he says that Amy went to him on Valentine's day to buy a gun.
AMY'S JOURNAL (00:48:30) - Amy writes she doesn't feel comfortable close to Nick without a gun but she doesn't believe he would hurt her herself.
Belly of the Whale (00:53:00): Margo finds out about Nick's affair and they fight. Nick goes on the public stage and makes a speech about Amy. A woman shows up from the crowds yelling that Amy was pregnant. Nobody believes Nick anymore. The detective confronts Nick inside the house and tells him about the flaws of the crime. He is now the main suspect. His sister shows up and they fight pretty bad about Amy.
The Inmost Cave (01:05:00): The detective finds Amy's journal in the basement of the house of Nick's father. AMY JOURNAL: Amy says that Nick may kill her. Nick solves the enigma and finds his anniversary present. Amy confesses her plan.
Crossing the Second Threshold (01:13:00): Nick has the help of his sister again to find out Amy's plan. They open the box and find the marionettes. Amy starts a new life and lies about his identity to people.
Making Allies (01:20:00) - Nick goes to New York to hire a lawyer. He meets with Amy's ex-boyfriend, Tom, and he tells his past with Amy that proves she is a sociopath.
01:28:00: Nick goes see Amy oldest boyfriend, Desi, but he doesn't want to talk.
01:30:00 - The detective finds the crime facts very weird.
01:32:00 - The lawyer goes to Missouri to help the case.
01:34:00 - The new neighbors of Amy find out she carries a lot of money with her.
Resurrection and Elixir (01:35:00): The lawyer convinces Nick to go on TV. The neighbors of Amy go after her money. They take it. Amy goes to Desi, her first boyfriend, for help. Nick is trained to his interview. Nick's affair tells on TV about his affair and publicly says she is on Nick's side. Nick is interviewed and does a good job. Amy goes to Desi's house and stay there as refugee. He pressures her to dye her hair again and she doesn't feel comfortable next to him. The interview of Nick goes on air and Amy is shocked.
Love in the Underworld (01:54:00): The police finds out the Amy's present in Margo's garage. After the police questioning to set Margo free, Nick is arrested.
The Ultimate Boon (02:05:00): - Amy kills Desi and goes back home.
Milestones (THIRD ACT):
Making Allies (02:06:00): The detective and Nick don't believe Amy's story.
Crossing the Return Threshold (02:08:00): Amy tells her lies to the police.
Reward/Freedom to Live (02:15:00): Amy and Nick become national passion. The lawyer and the detective must drop the case.
Master of the Two Worlds (02:20:00): Amy tells Nick she is pregnant, that she took his semen from the semen bank.
​
Final Feedback:

I kept the journal's scenes since they are important to build up and wreck down the characters empathy with the public. I believe that the scene that best match the Love in the Underworld segment would be Nick defending his sister, otherwise I wasn't able to find any.

As I could note, the Resurection takes more scenes than usually. It does make sense considering that this picture is longer than most.

The points 6-7-8 and 13-14-15-16 does not bring relevant new information to the storyline. They are necessary/predicable steps in order to reach the main milestones, as I see.